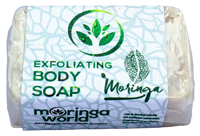 This exfoliating handcrafted Moringa soap bar can be used daily to cleanse the body without the use of woofers. Gently apply the soap against the skin for a thorough exfoliation.
It contains organically certified Bulbine frutescens leaf juice that will cleanse, hydrate and leave your skin feeling soft and healthy. This plant extract is an excellent moisturizer for dry and sensitive skin. The exfoliating effects are due to the Organic Moringa leaves packed with all sorts beneficial of Phytonutrients.
Contact us today to find out more about the many Moringa products we offer.
Comments (0)
No comments at this moment